Next:
Representing the Agents' Performance
Up:
The Monitoring Agent
Previous:
The Virtual FM
Before starting using the Monitoring Agent, it should be configured. So firstly select the Monitoring option of the FM main menu in order to activate the Monitoring Agent Control Panel (see Figure
in page
).
Next press the Select File button on the Control Panel to display the Monitoring Agent Control Panel in Figure
.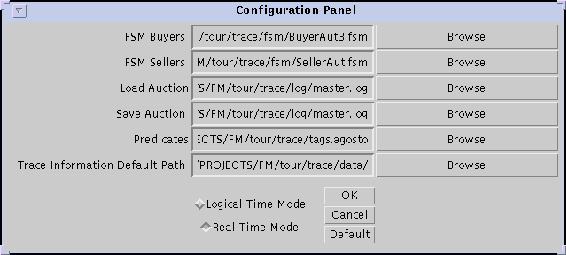 Figure: Monitoring Agent Configuration Panel.

Among the many configurable parameters, for the current version only two of them are worth considering:
Trace Mode. The tournament designer can choose between the logical time mode, for finished market sessions, and the real time mode, for ongoing market sessions.
Trace Information Location. The trace information produced by both the market agents and interagents is stored, by default, in the subdirectoy data of the trace directory. However, you could opt for keeping the trace information corresponding to different tournament sessions separated, in different directories. Then you must specify the location of the trace informacion that you intend to trace. For instance, the subdirectory demo of the trace directory contains the trace information of a tournament session that displays all the possible events that might take place.
Once the Monitoring Agent has been configured, you can start playing about with it by means of the buttons lying down on the Monitoring Agent Control Panel. The overall functionality provided by these buttons is highly similar to that of a video player remote controller. Next, we make such functions explicit: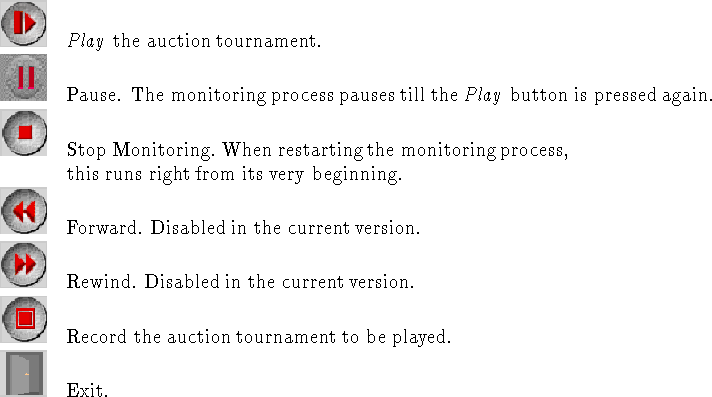 These Control Panel buttons will show the following possible states:

Also notice that not all buttons can be active at the same time because of incompatibility reasons:
When pressing the stop button, the rest of buttons become active except the pause button.
The record button can be solely active before starting off playing a market session. Therefore, to record a session this button must be pressed beforehand.
Pressing pause temporarily blocks the ongoing market session reproduction. Simply press play to continue.
Observe that nex to the Control Panel buttons there is a choice menu with the Simulate last auction executed option as the default choice. This menu allows you to select the auction tournament to be played out of the list of recorded tournaments and the last tournament executed (see Figure
for a sample of list of selectable auctions).

Figure: Monitoring Agent List of Selectable Auction Tournaments.

When choosing a recorded tournament session to be played, the information characterizing the auction will be showed on the windows making up the so-called information area of the Monitoring Agent Control Panel as shown in Figure
:
Counter. Displays the logical time as the tournament progresses
Buyers. Displays the buyers that took part in the tournament.
Sellers. Displays the sellers that took part in the tournament.
Goods. Displays the goods on sale.


Figure: Monitoring Agent Control Panel Information Area.

---
Next:
Representing the Agents' Performance
Up:
The Monitoring Agent
Previous:
The Virtual FM
Juan Antonio Rodriguez
Fri Oct 16 15:39:57 MET DST 1998